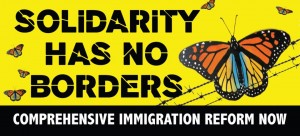 5pm, Wednesday May 1–Pittsburgh Federation of Teachers Hall, 10 s 19th St., Pittsburgh, PA
6pm—March to IBEW Local 5 Hall, 5 Hot Metal St, Pittsburgh PA
May 1st has been historically linked to international workers' rights. It started, May 1 1886 when the U.S. Federation of Organized Trade and Labor Unions – which included immigrant workers from all over — ruled that an 8 hour work day, would be a full and legal work day. The ruling class refused, causing riots and the long and even deadly battle to win rights for workers. It wasn't long before workers from all over the world began protesting and standing up for their rights. While we may think we have secured safe conditions, the promise of a minimum wage and overtime after a 40 hour work week for all working people, the truth is that we have much more work to do. The battle that began between the ruling class and the working class in 1886 is still smoldering today.
Right here in the US millions of workers are treated as second class citizens, earning unconscionably low wages — driving wages down for everyone – trapped by fear, and then being used as a scapegoat for our problems. Undocumented workers make up growing portions of low wage workers, often being exploited by their employers. Our current immigration system creates a clear list of winners and losers. While huge corporations, private prisons and the fast food industry continue to benefit from the current system, we, the working and tax-paying people of the United States, continue to lose every day. Our current immigration system is broken. It's expensive, it doesn't work (undocumented workers have increased exponentially since more money has been spent on border patrol) and it creates a second class of workers, who corporations and companies use to lower wages for everyone.
We will march on May Day to demand that our government come up with a plan that includes comprehensive immigration reform. Now is the time to keep families united; now is the time to hold employers accountable for the exploitation of millions of people across the country; now is the time to give all working people a fighting chance at a better life.