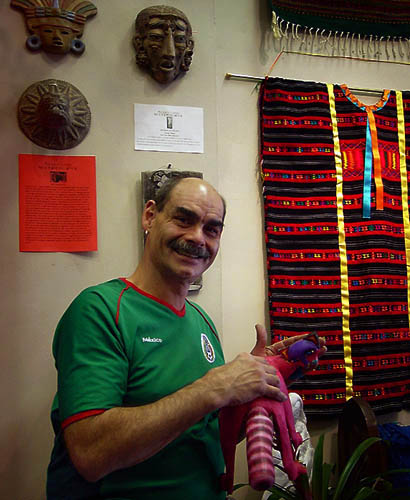 On July 10th, the love of my life, (and many of yours,) mi Alma, mi Vida, Jean-Pierre, left this world, leaving all of us with a treasure chest of beauteous memories, and bounties of blessings through his generosity, his humor, his myriad talents and gifts and his boundless love for all of us, which he gave so much more easily to others than to himself.
Though his was a lifetime of struggles with sorrows and inner demons that seemed so often to torment him, he managed to do all of that and to be successful in so many ways. Many of you are asking for information for this seemingly sudden event. In truth, he was more and more fatigued for more than the last few years, and his cough was so horrendous that I and his mother Monique entreated him a million times to see a doctor but he wouldn't do it. I think he found the energy somehow to work the punishing back to back film schedules of the last few years out of sheer love of that work and the great camaraderie that he shared with all of his union brothers and sisters when they worked together; which was possibly his greatest joy.
When we returned from taking Don Hugo, my father in law, home to Mexico to die in March, which was a supreme effort and difficulty for him, he began to get more and more tired and the cough more and more relentless, so at last he went to be seen six or seven weeks ago and was diagnosed with stage 4 cancer that had spread in several places. He was told there would be six months with no treatment and 12-14 with it. He wanted that time. He didn't want so many of you to know because he wanted to be able to announce after the fact, "I am here, I have conquered it, I'm ready to get back to work". The last four weeks saw a swift and frightening decline, and he endured unspeakable hell, and yet was still brave enough to take his first chemo treatment on Monday, but I think it was just too strong and too much for him, and that his heart and lungs couldn't withstand it. He didn't want a long drawn out death and so I guess this was a blessing, however terrifying and shocking it is to us now. He never liked or wanted a traditional funeral or its' attendant traditions, and so we will plan a proper celebration of his life where we can all be together and share our love for him and one another; I want it to be a fitting tribute and will need some time to put that together and will keep you informed when all is decided and prepared. He always said he wanted to be taken back to Mexico, (just as the famous song that we named our business after describes) and his ashes scattered there:
"Mexico y lindo y querido
Si muero lejos de ti
Que digan que estoy dormido
Y que me traigan aqui
Que digan que soy dormido
Y que me traigan aqui
Mexico lindo y querido
Si muero lejos de ti".
When we would arrive in Mexico, our first order of business was to go to the Zona Rosa and have lunch, and invariably a musician would come along and ask for a song request. He always asked for Mexico Lindo and he always cried, as he explained the words and sentiment to me, and then I would cry also, but they were also glad tears, because we were just so happy to be there and to be embarking on new adventures and discoveries together. He gave me Mexico; he gave me a whole new world of beauty and magic, and a beautiful playground in our store to create and share all of that with everyone, and so I must do that for him at some point, though the thought of going there without his hand in mine is unbearable. But he also gave to me the love and friendship of all of you that knew him even before I, and two incredible families that over the years that have assisted in so many ways in eradicating the sorrows of losses of so much of my own family too soon. So I know that somehow we will get through this together and honor and celebrate the majesty of his Being; so grand, so joyous and all encompassing, when he was happy and at his best.
And I will continue somehow, though I can't exactly say in what way yet, to work to build a lasting legacy in his honor with our collection and to try and support the artists that we both love and admire so much.