We want to thank everyone who particpated in and championed Muertos y Monarcas this year and to share the pix from the ofrendas with you. First, though, I had promised some a link to background info on Dia de los Muertos, and this article by Judy King is one of my favorites. All of the links in this entry lead to informative articles or videos about the individuals and all of the photos are clickable to view full sized. Keep in mind that the ofrendas are limited to remembrances of people who have died between the last Dia de los Muertos and the current one, primarily because the ofrendas become very crowded quickly.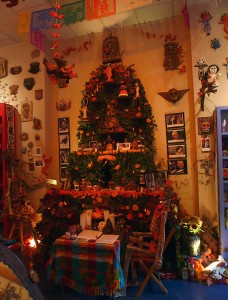 The next two images give two views of the pieces at the top center: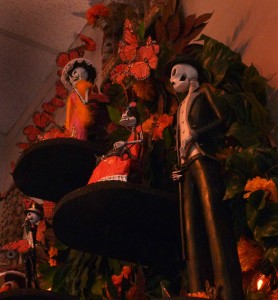 The mid center features an amazing ceramic Muerto by Demetrio Aguilar: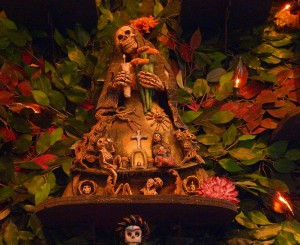 and directly below that is a highly detailed ceramic Frida by Tomas Baez:
Below Frida with her monkeys and birds is the area we call the "secret grotto", featuring a beaded Huichol skull and behind it a papier mache skull mask: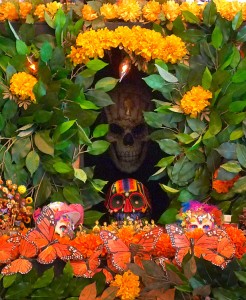 ..and a detail of the ceramic calveras feasting by Adrian Gonzalez in front of that, as well as the extra fancy sugar skulls from Toluca: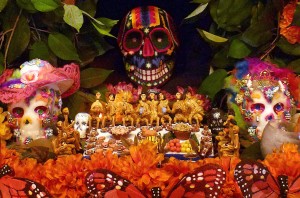 ..at the base in the center is the Mexican Drug War casualty count, and a favorite image in postcard form by artist Artemio Rodriguez, and to the right of that a shrouded figure in barro negro by Carlomagno Pedro Martinez and a Catrina driving a cart and horse by Guillermina Aguilar: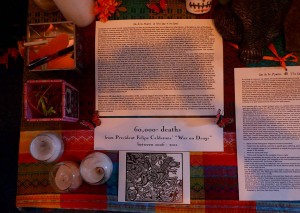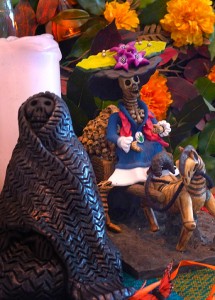 Below, on the far left we have the giant Deer Dancer holding the sign with the Iraq and Afghanistan war casualty counts and also a photo of activist and poet Susana Chavez: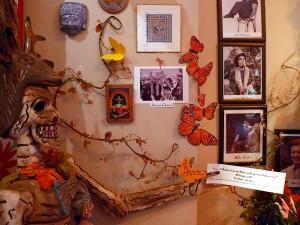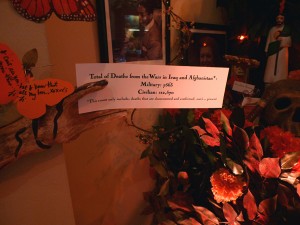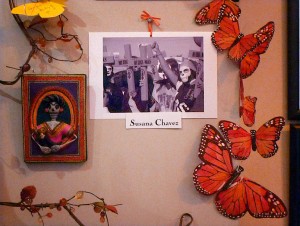 A view of some love notes left behind by participants: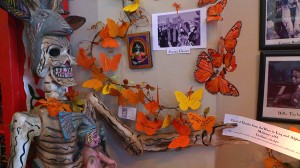 On the left wall, we fondly remember Peter Falk, Jack LaLanne , Captain Beefheart and Dr. Billy Taylor.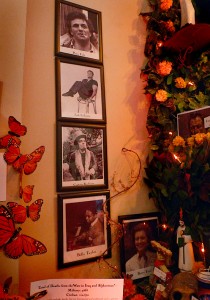 At midpoint on the upper left level we remember painter Lucian Freud and filmmaker Dino De Laurentiis: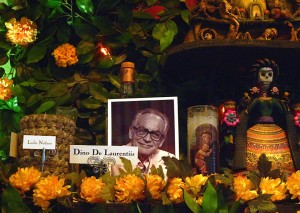 On the lower left level, we have three strong women: Betty Ford, Geraldine Ferraro and Bernardine Healy: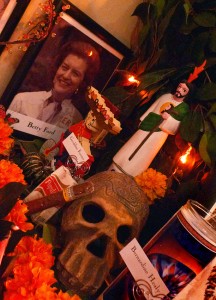 On the lower left corner, we honor Jose Arguelles with a sterling silver Hunab Ku pin/pendant combo, a customized Hunab Ku candle and a Serpentine Mayan lord carving: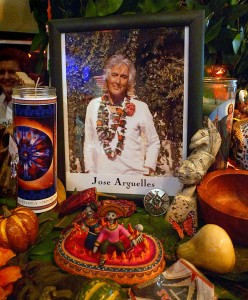 and to the right of Jose, we have Elizabeth Edwards between a painted cranio with serpent by Silvia Hernandez and muerto tree of life by Jose Luis Serrano: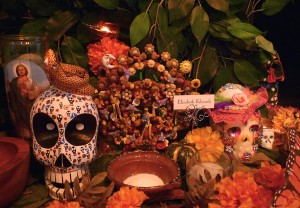 On the right wall: Amy Winehouse, Dr. Jack Kevorkian, Elizabeth Taylor, Steve Jobs and Facundo Cabral:
At midpoint on the upper right level we remember painter Leonora Carrington and Owsley Stanley: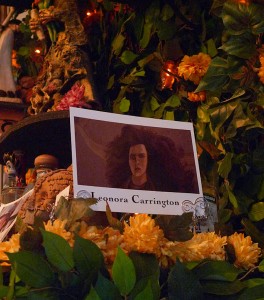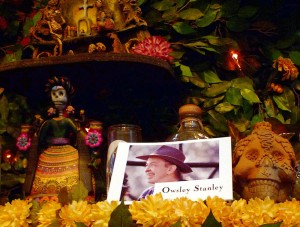 On the lower right level, we honor two remarkable innovators: Dennis Ritchie and Wangari Maathai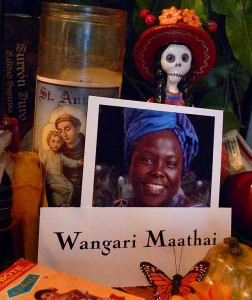 And on the lower right corner, Bishop Samuel Ruiz, flanked by a miniature ceramic bishop calavera by Miguel Angel and a Zapatista on horseback from Chiapas: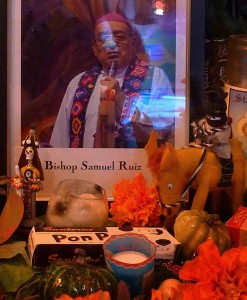 On the base of the lower right we have another giant wooden Aztec warrior, enjoying his pan de muerto…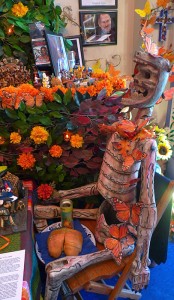 Over the window display case a pretty girl calavera in papier mache was taking a breather from the festivites:
On the bottom right of the window we had prolific composer John Barry and his mini piano playing skeleton self: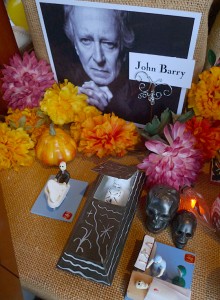 and two legendary Pittsburghers, radio personality John Cigna and former Pirates manager Chuck Tanner: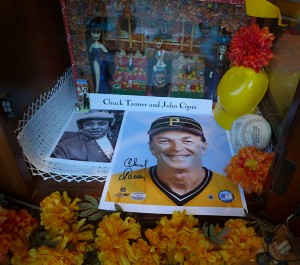 Also in the window on the right side are two more Pittsburghers and friends who left us all too soon, Leo Welsh and Ryan Douthit. Beside Leos' photo is a classic cranio with butterflies in ceramic by Tomas Baez; beside Ryans' photo is a selection of our sterling silver muerto jewelry, a carved and painted wooden monkey calavera by Bertha Cruz Morales: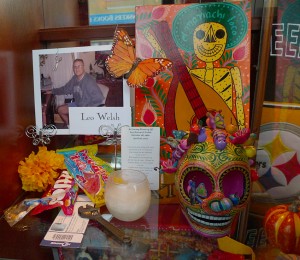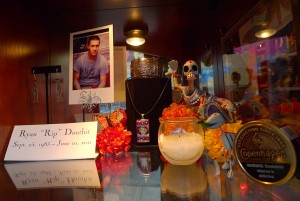 In the bottom center of the window are two unique pieces; the "Kiss of Death" in barro negro by Carlomagno Pedro Martinez and a calavera sirena in ceramic, along with more assorted mini ceramics by Miguel Angel: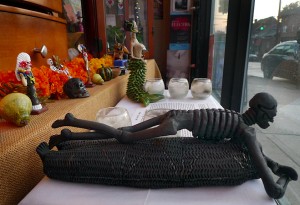 The window center is devoted to another Pittsburgher and our neighbor here at the store for the past seven years; Italian tailor and futbol player Alberto DiClemente: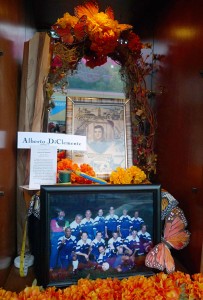 On the upper left of the window we remember Sargent Shriver, and beside him more sterling silver jewelry in muerto themes, as well as a wooden catrina by Rocio Hernandez.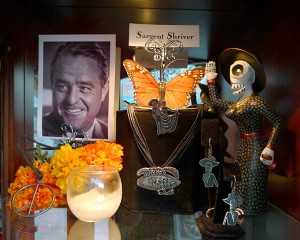 More personal remembrances follow in the window; shown here in succession are my Aunt Ruth Stafford Duesing, my beloved cat and best friend for 16 years, Poppy, and my dear brother Danny DiGioia.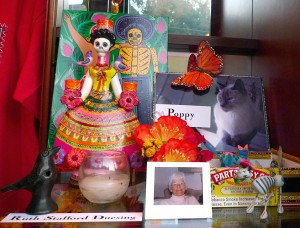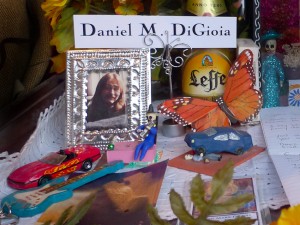 In the lower left of the window we have photographer Lazaro Blanco and his mini photographer skeleton self: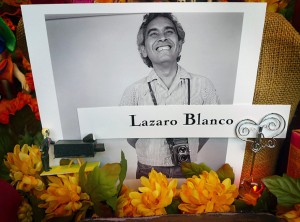 Some of our visitors came in full dress: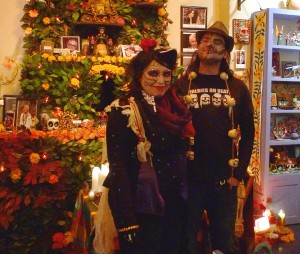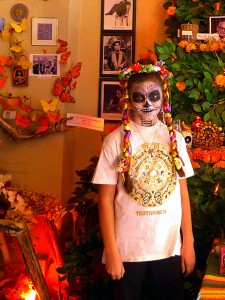 And so another Dia de los Muertos had come and gone, reminding us once again of the mystery of our seemingly fragile existence and the eternal bonds of love that we all share. It also reminds us to cherish those we love, whether they reside in this world or some other, in every moment, putting aside grief, anxieties and conflicts wherever possible, and that surrounding ourselves with beauty is part of what makes being human in an inexplicable world not only more bearable, but more worthwhile. Conversely, that which we can't immediately see with the physical eyes is no less present or beautiful. As the ex-angel played so perfectly by Peter Falk said to another angel in Wim Wenders' iconic film, Wings of Desire (see link for Peter Falk!): "I can't see you, but I know that you're there. Compañero."