There are necklaces and then there are necklaces that are much more than mere adornment, but in fact are divine, beautiful, magical talismans. We were fortunate to find two such pieces fitting this description on our last silver shopping trip to Taxco. Both are extraordinary examples not only of superb craftsmanship but also unique and thoughtful design.
The first is made from jaguar skin and leather, mounted in sterling shapes reminiscent of lightning bolts. Indeed, the energy of the jaguar is electrifying and it has been revered in Mesoamerican culture throughout the ages. There are representations of the jaguar found in art and artifacts throughout the Olmec, Mayan and Aztec cultures. Whether a warrior, a Lord or a shaman, one had to earn the privilege of wearing the skin of the jaguar, and so it will be with this necklace.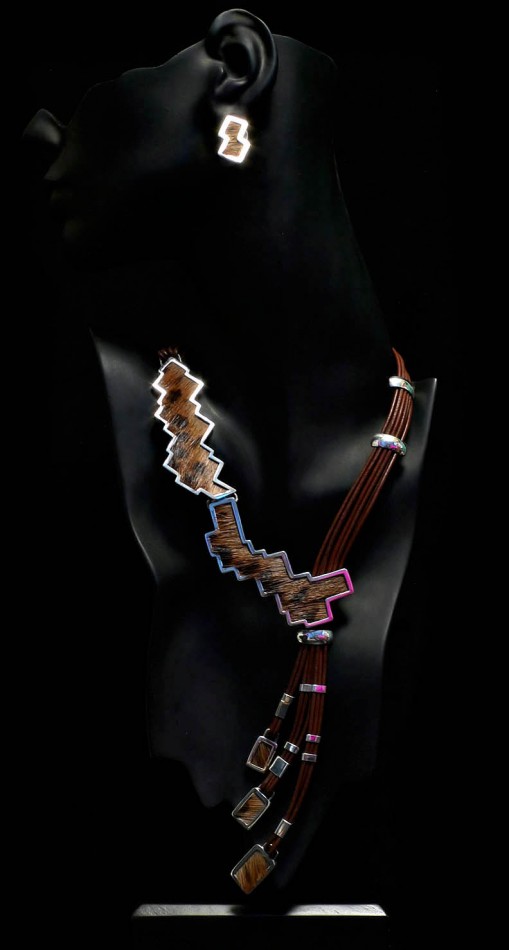 I have resolved that it will not be sold to anyone that does not demonstrate an understanding of and respect for the Mesoamerican concepts of the jaguar, which you can read more about in this fascinating and thorough Wikipedia article. Proper gratitude and respect must also be paid to the Italian jaguar that once inhabited this skin (It was brought by a family member who works in leather there to the craftsman/designer); still as lustrous and magical as the starry night sky that the jaguar sometimes exemplifies. $975
Our second necklace is a magnificent homage to Our Lady of Guadalupe, much beloved Patron Saint of the Americas and of course Mexico in particular. This multi-strand beaded necklace of rhodololite garnets, grey baroque freshwater pearls and Swarovski crystal culminates with a heavy weight handmade sterling silver image of Her regal visage, in highly detailed and oxidized textures, surrounded by rose-filled rays, as legend dictates.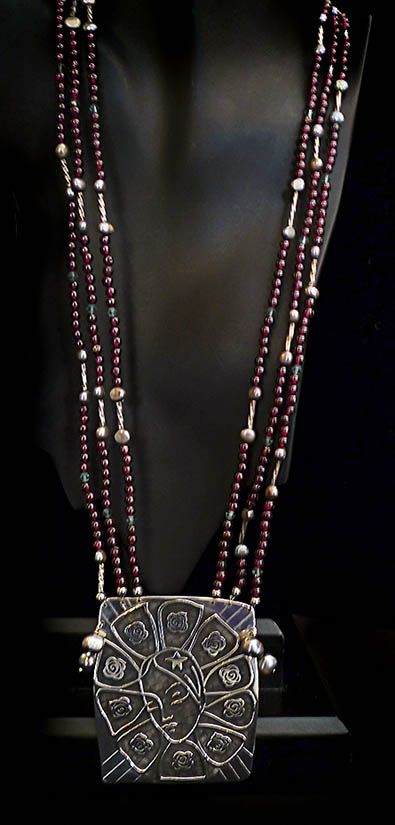 When wearing this amazing piece, one is continually reminded of Her reassuring presence and comforting words to San Juan Diego: "Let not your heart be disturbed. Do not fear sickness, nor any other anguish. Am I not here, who is your Mother?" Whether you prefer to think of Her in her original form, as the Goddess Tonantzin, or as Guadalupe, there can be no doubt that for those who are devoted to Her, She is always a guiding presence.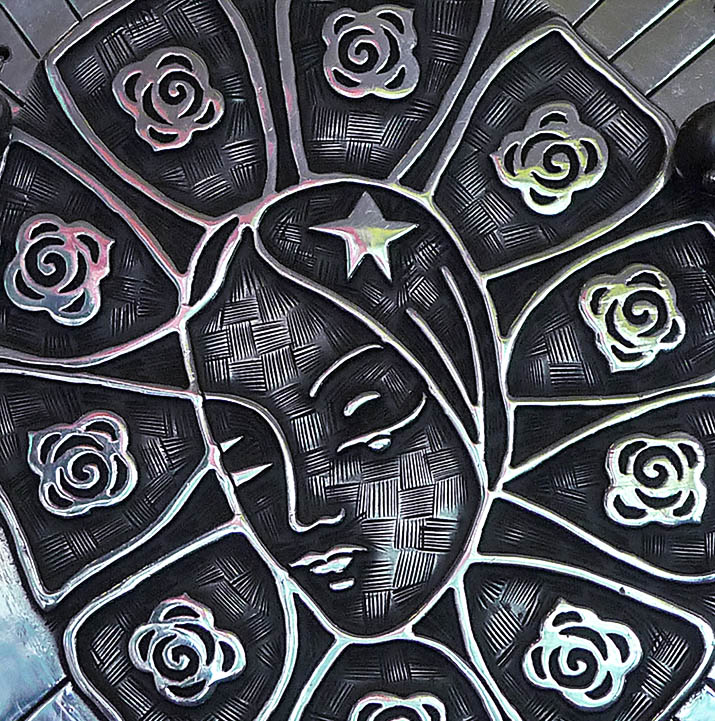 $675