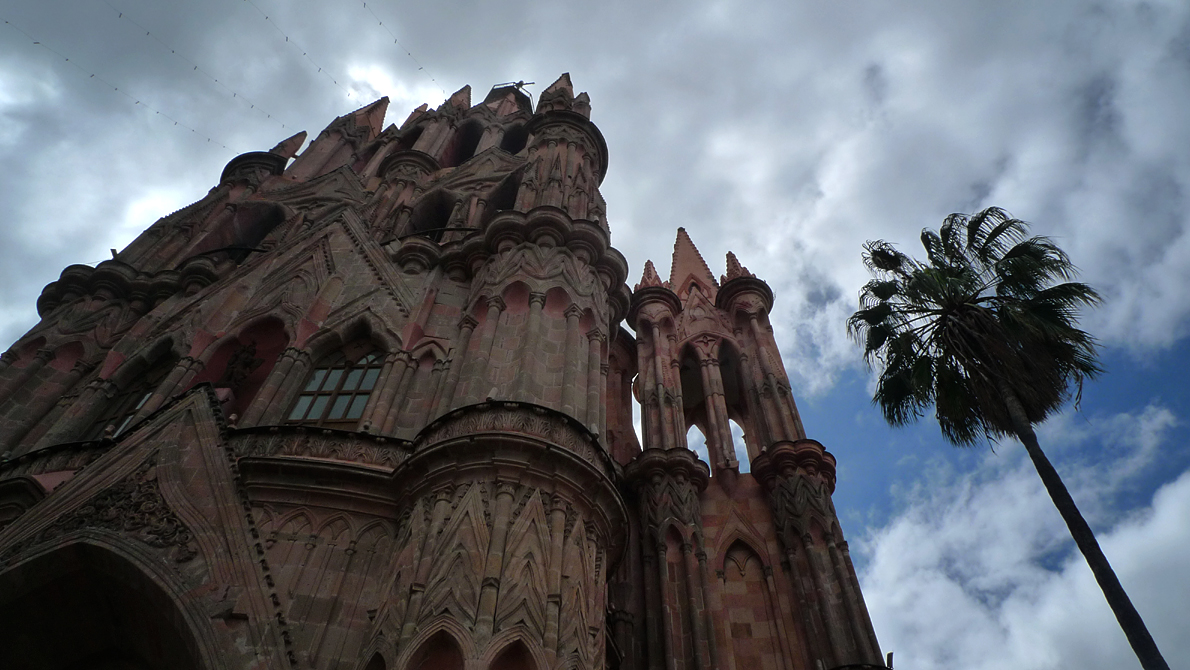 ¡Hello, Friends! We had another fruitful shopping expedition in September and wanted to share some photos, new things and experiences with you.
As always, we begin and end our journeys in Mexico City, and no matter how many times we have seen it, there is still nothing better than that first glimpse of the Angel of Independence after having been away for a time. She was looking especially regal that first evening of our arrival.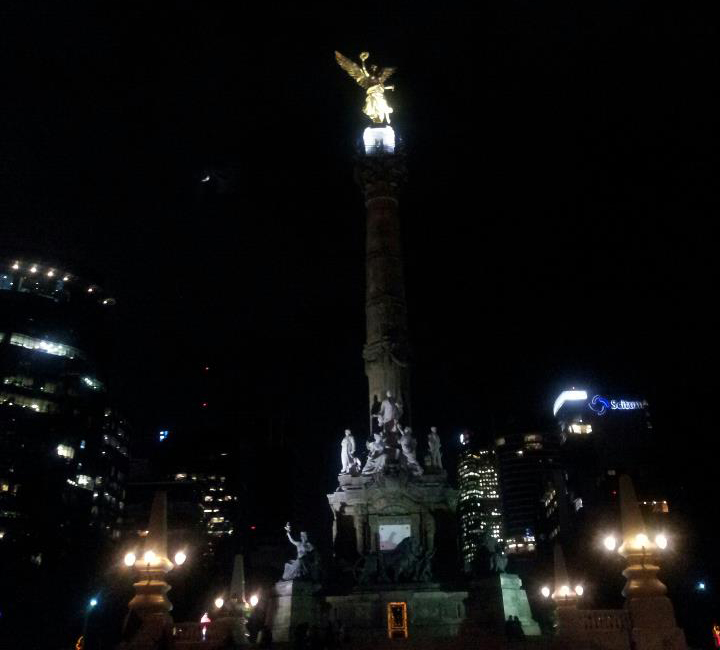 Nearby on the Reforma in front of the American Embassy, we saw a presentation and demonstration by the Yo Soy #132 Movement for Peace with Justice and Dignity.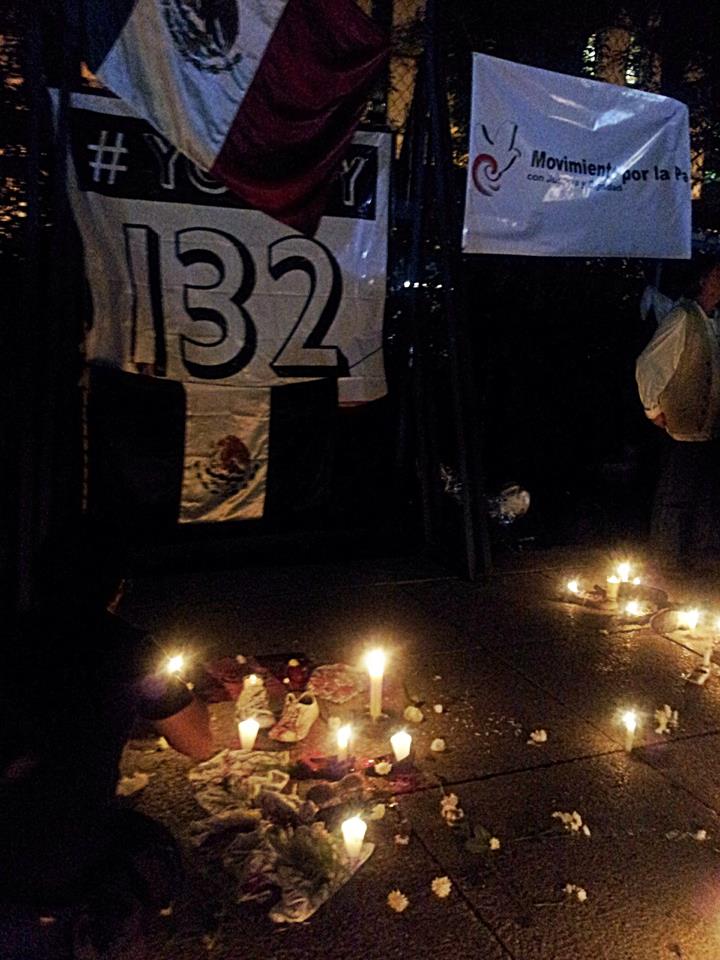 The next morning we were off bright and early to Taxco in search of more silver for the holiday season. We feel the same way about the cathedral Santa Prisca as we do about the Angel: a million views and photos will never be enough to entirely take in it's grandeur.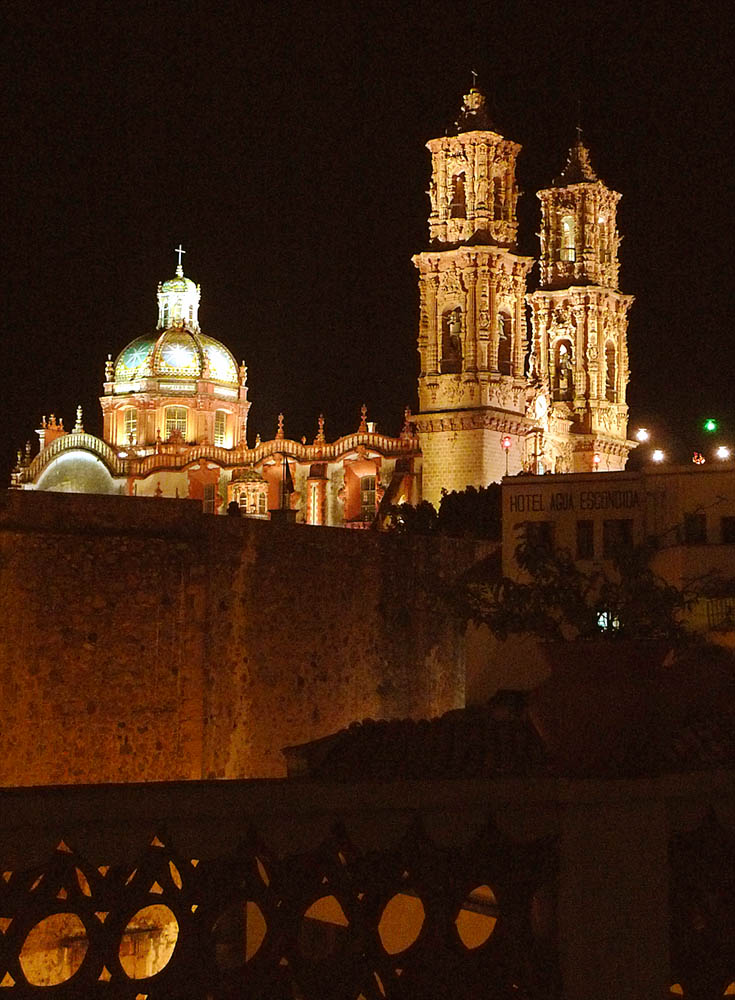 There were many wondrous finds to be had in sterling silver, and we did our best to find things that were not only beautiful, but also hand made, well-executed and unique. Here is an extra large fine filigree earring with turquoise that manages to retain grace and style without being too overbearing: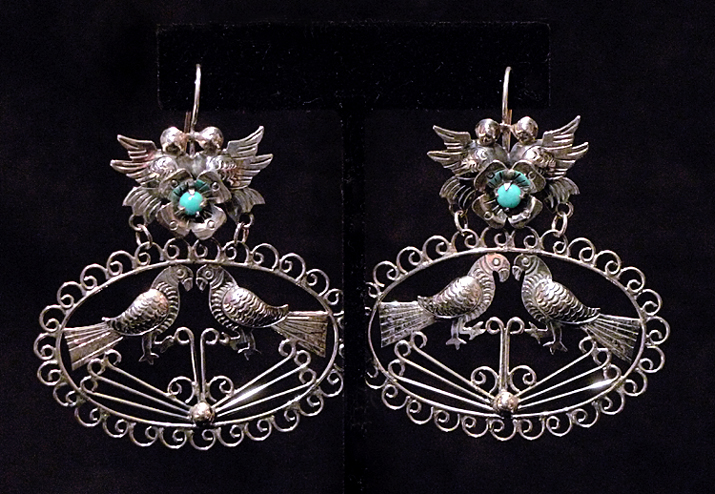 Two turquoise dolphins grace this elegant choker: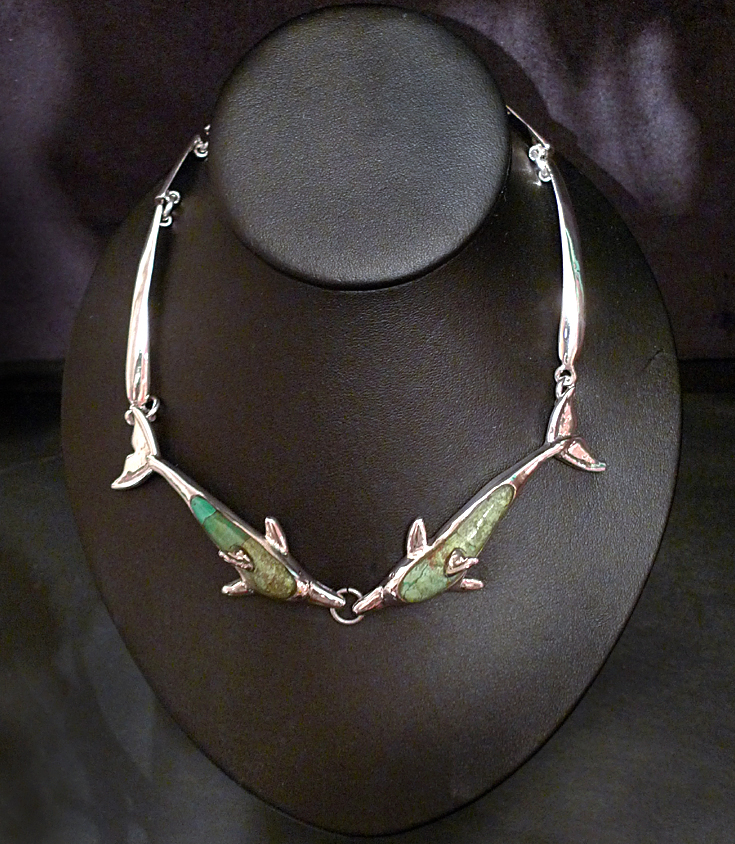 And here is a whimsical sheep clothed in cultured freshwater pearls that can do double duty as either a pin or a pendant.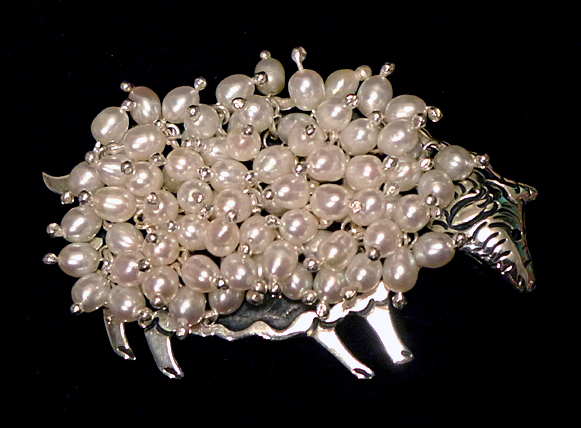 It was also the time and place to find more of our favorite silly, black and white muerto-themed ceramic cranios, boxes and other small items, and we weren't disappointed. We have enough cavorting, lovesick skeletons to please all of you!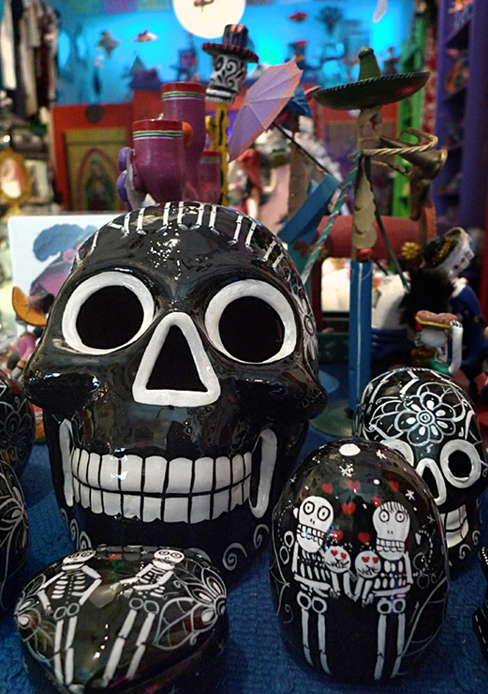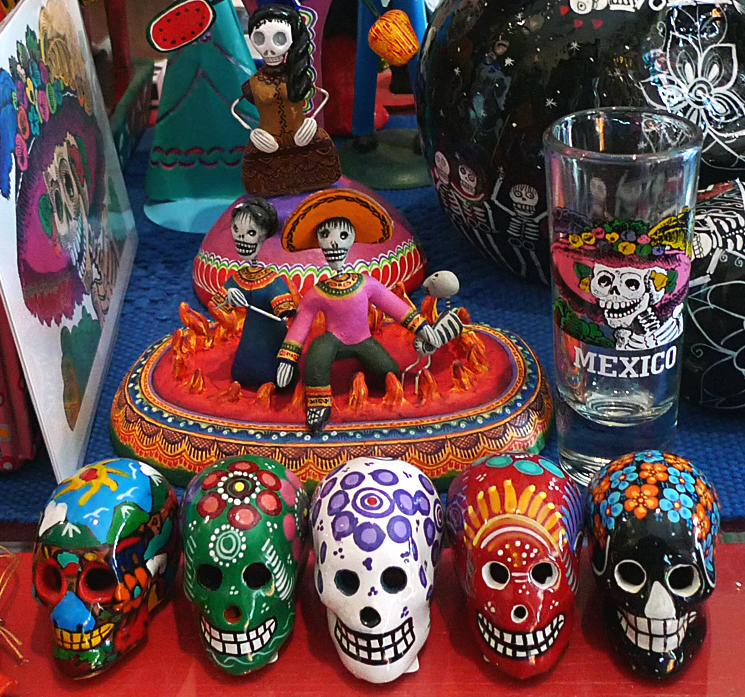 …And there were kitties galore!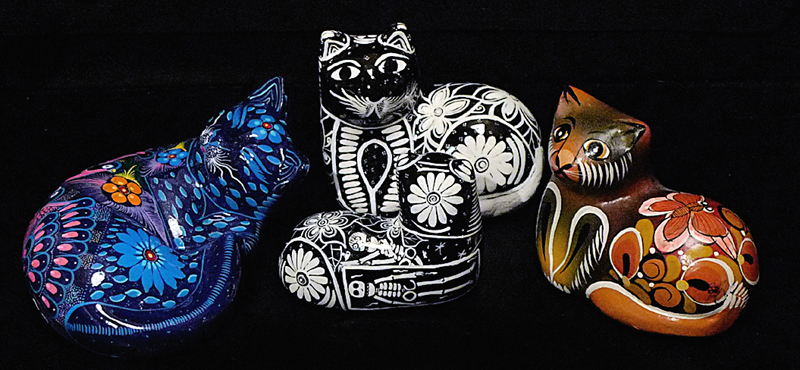 A glorious antique, giant wooden jaguar covered in milagros took us by surprise and could not be left behind…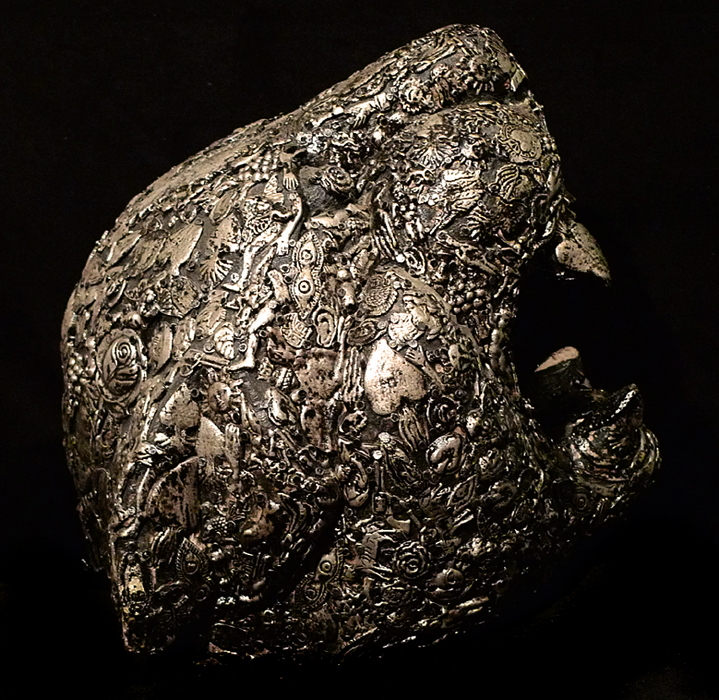 Next we off to Metepec for some new Trees of Life. All was still decorated for Independence Day and the surroundings were delightful. A special gigantic Arbol that had been made for the Bicentennial was impressive: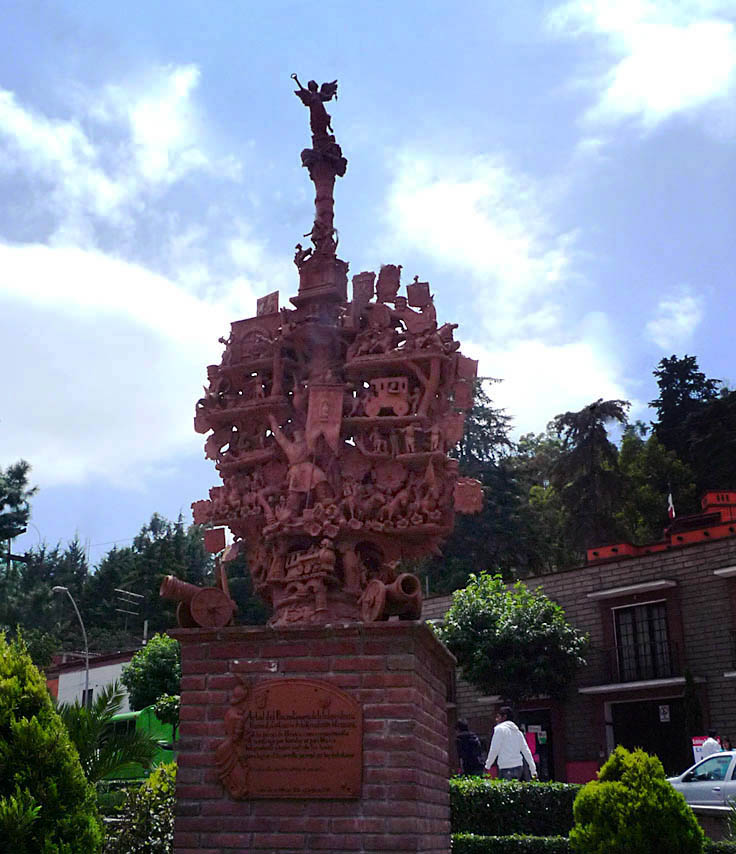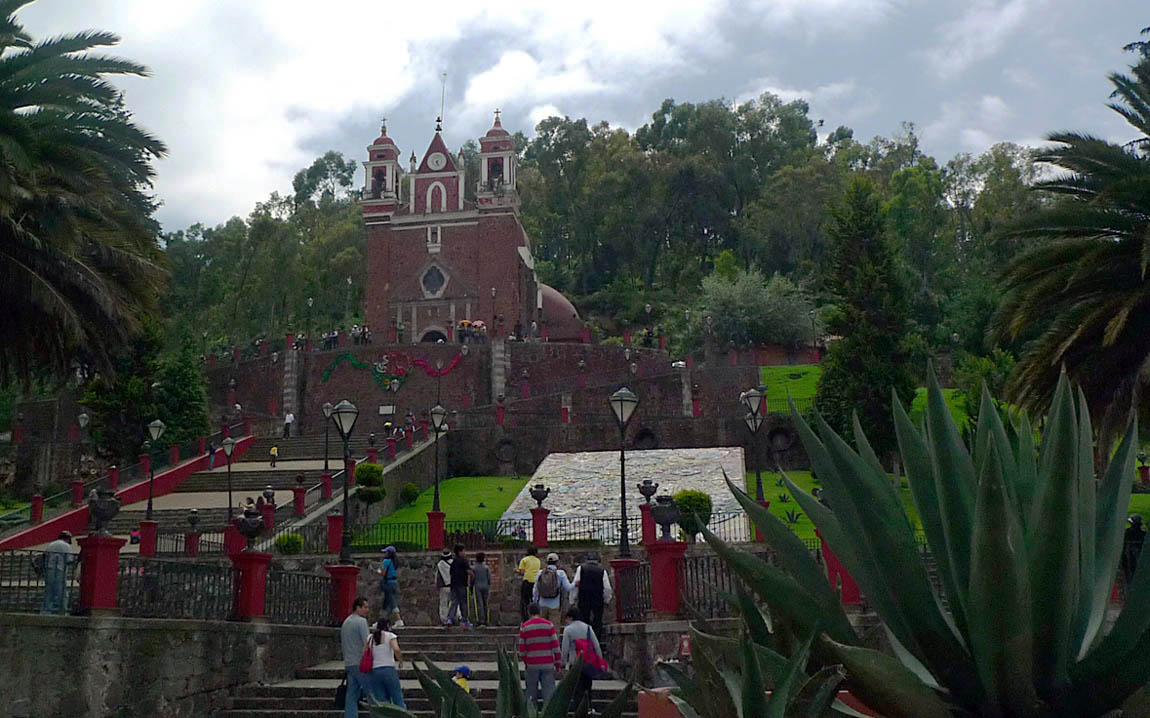 Two of our finds: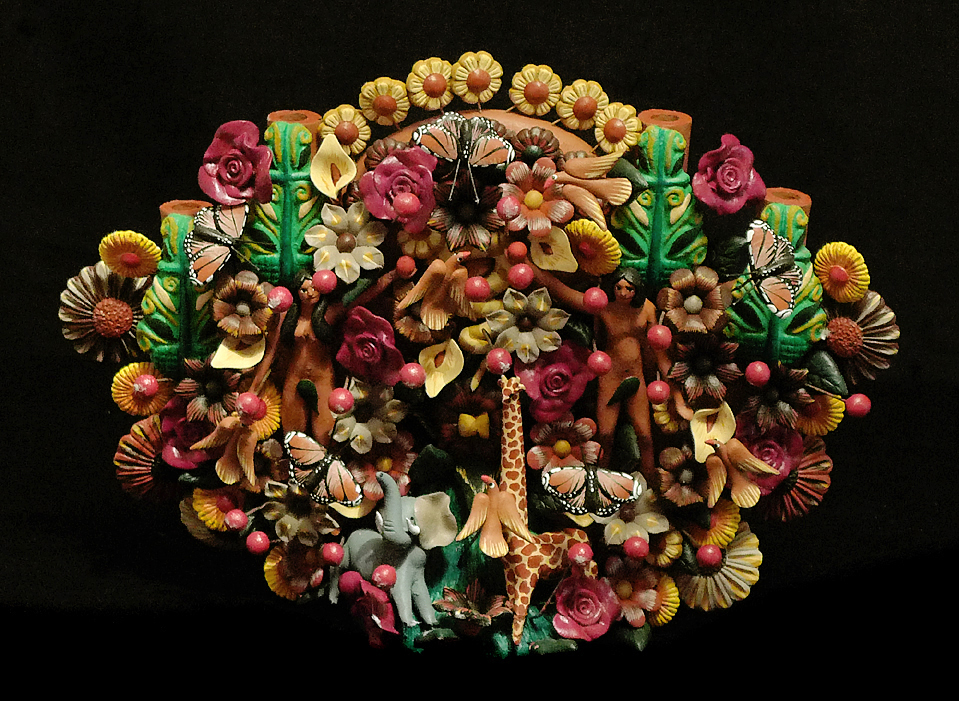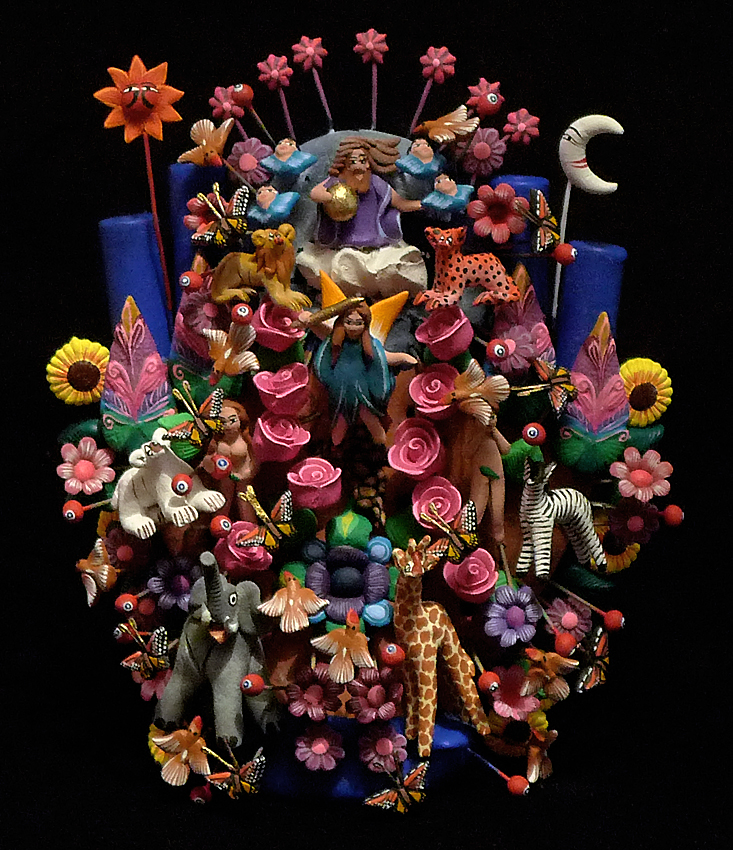 A visit with our longtime friend Alejandro Sergio Hernandez, Maestro of papel picado, yielded these two highly unusual, one of a kind panels framed in tin: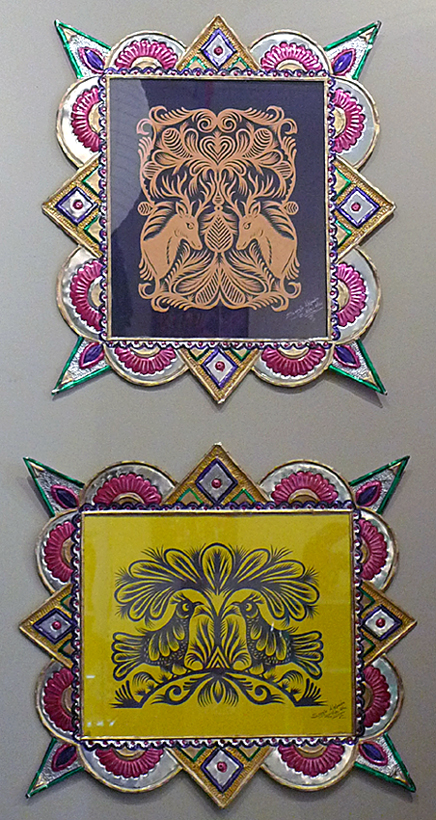 Nearby, we were glad to find that our favorite purveyor of extra fancy sugar skulls with feathers and tiaras was still there and fully stocked. We hand carried some of these all the way home. :)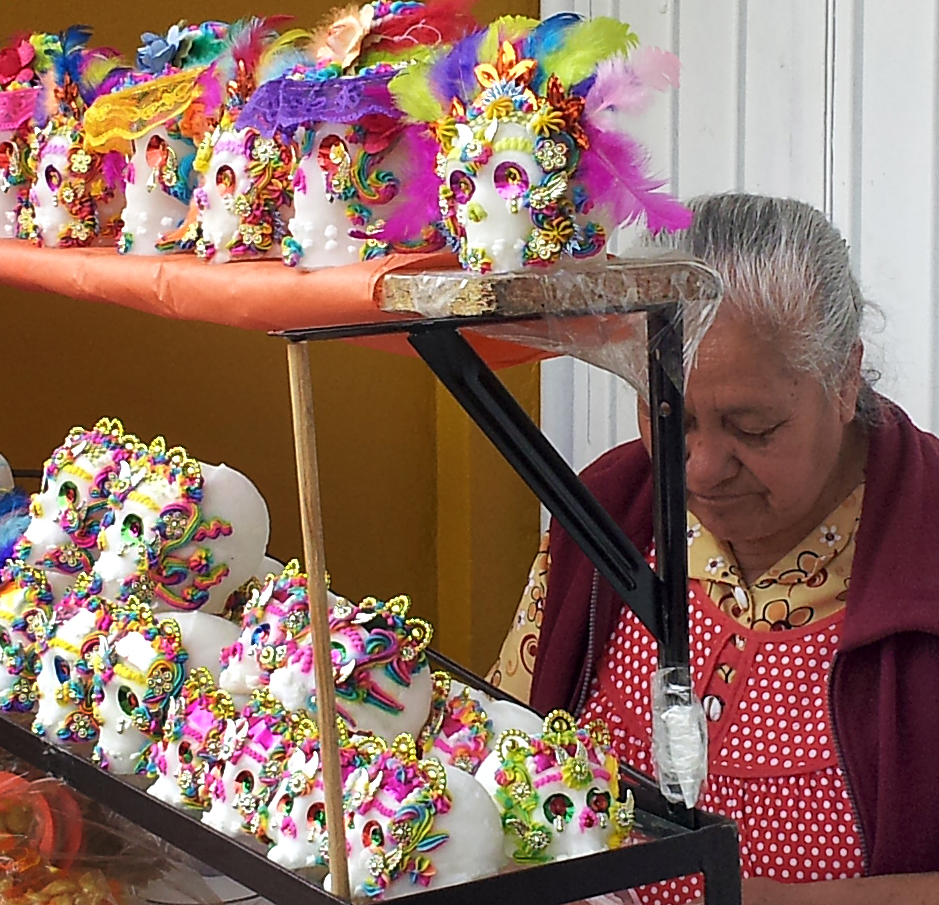 The next day we moved on to Queretaro for a little R&R and were delighted by the enchanting B&B, Villa del Villar. You are greeted upon entering by two canaries, singing their perfect songs:

The canaries overlook an inner courtyard, which is graced by a stately bougainvillea, that dropped its' petals like blessings, too beautiful to step on: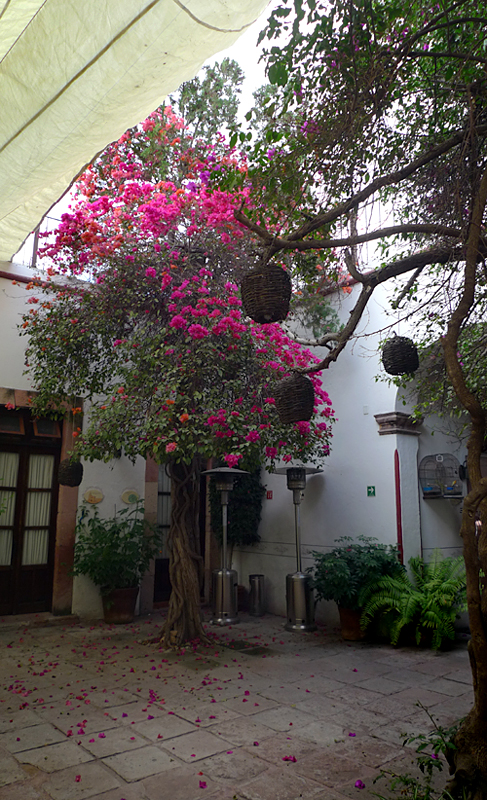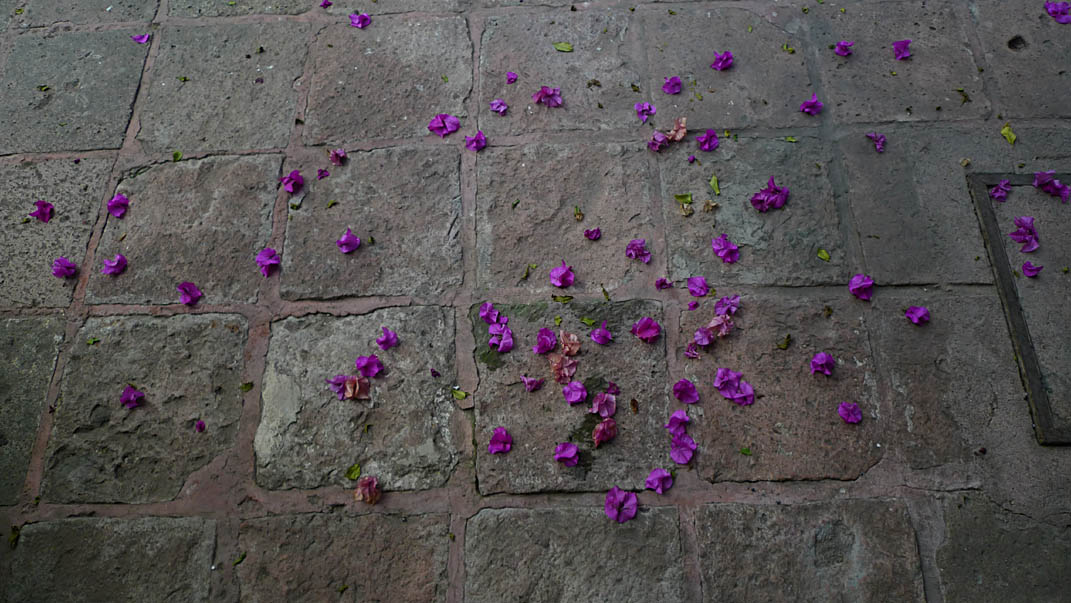 Breakfast was made to order…and we were amazed to realize we had found our own little piece of heaven; we highly recommend it!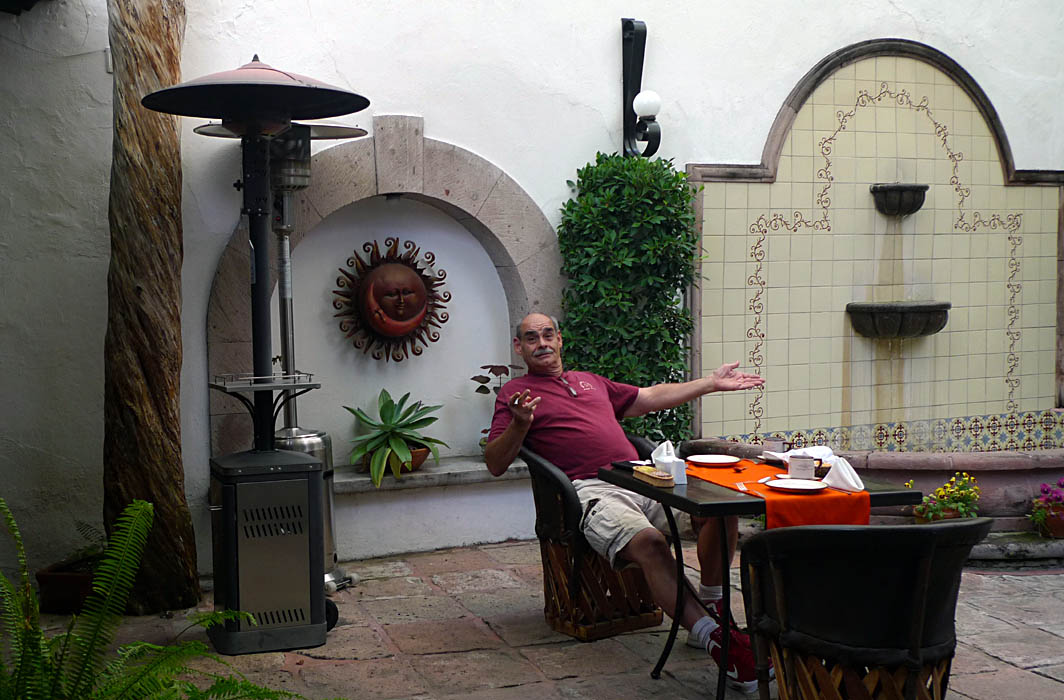 Queretaro is charming, picturesque and there are many museums to explore, but as usual, we hadn't allowed enough time for such luxuries. Still, we can never pass by a grand cathedral without taking photos, and this one was no exception: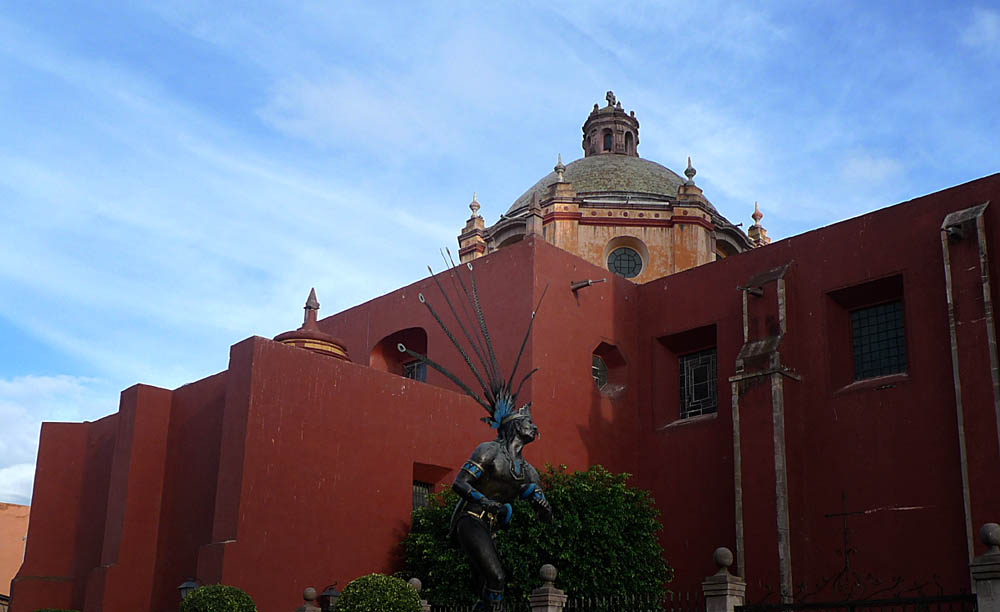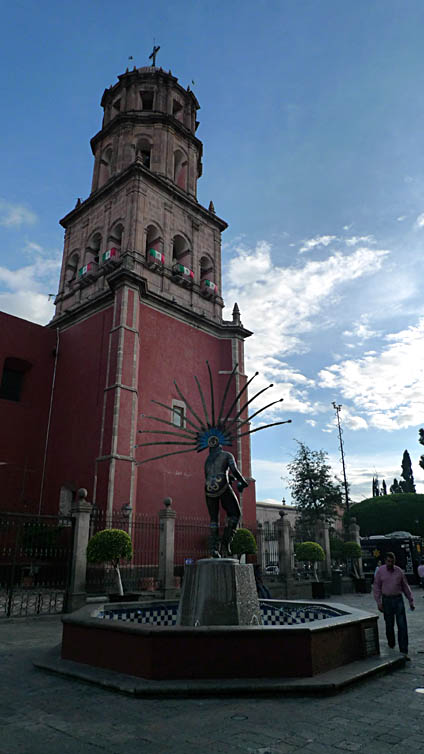 Another church nearby had an enchanted gateway that beckoned in the evening: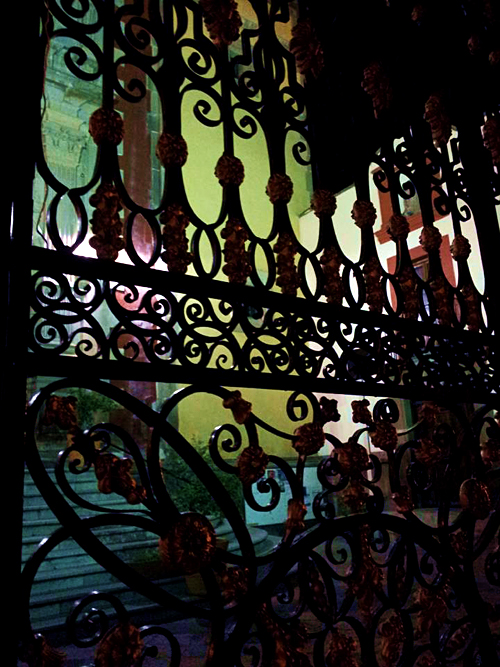 Everywhere throughout the many little plazas there were vendors of every trinket imaginable, and so of course we couldn't help ourselves. This Otomi woman had wonderful things, and we did get some darling dolls, but it was her beauty and her glorious attire that compelled us to ask for a photo: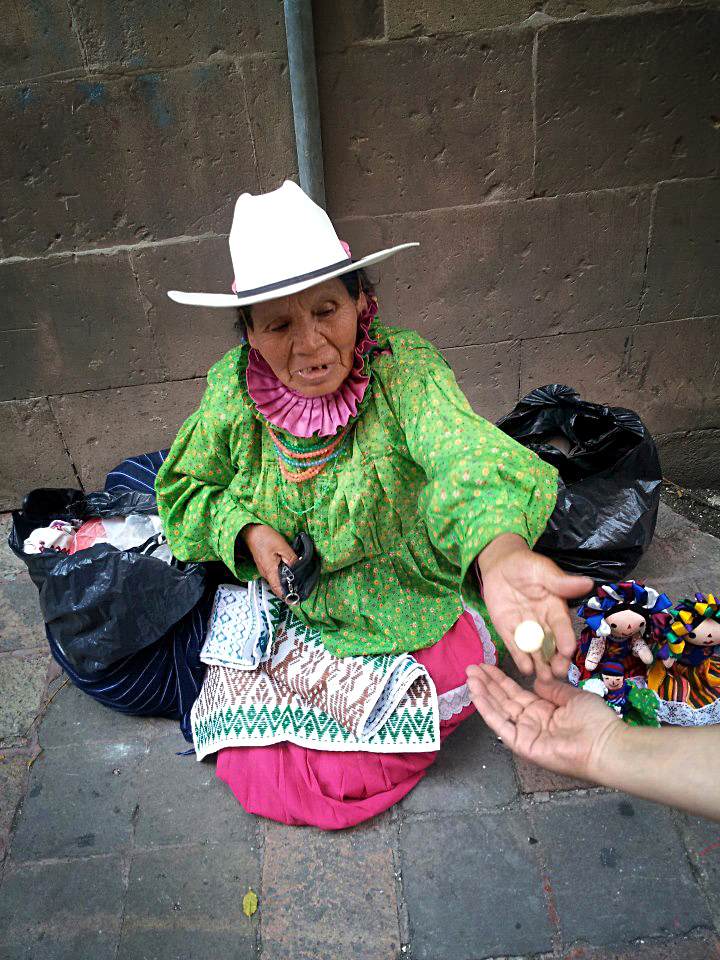 We found some of the wonderful opals that Queretaro is known for: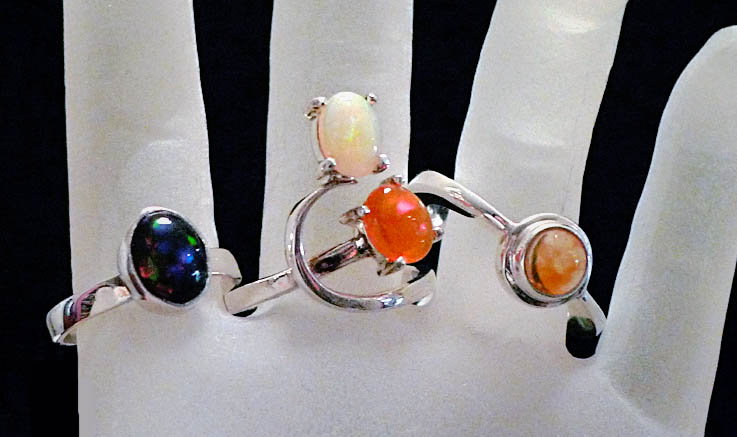 Every evening there is a full-fledged flag lowering ceremony outside of this government building, complete with drummers and singing of the National Anthem, and we were thrilled to witness it in all of its' pageantry.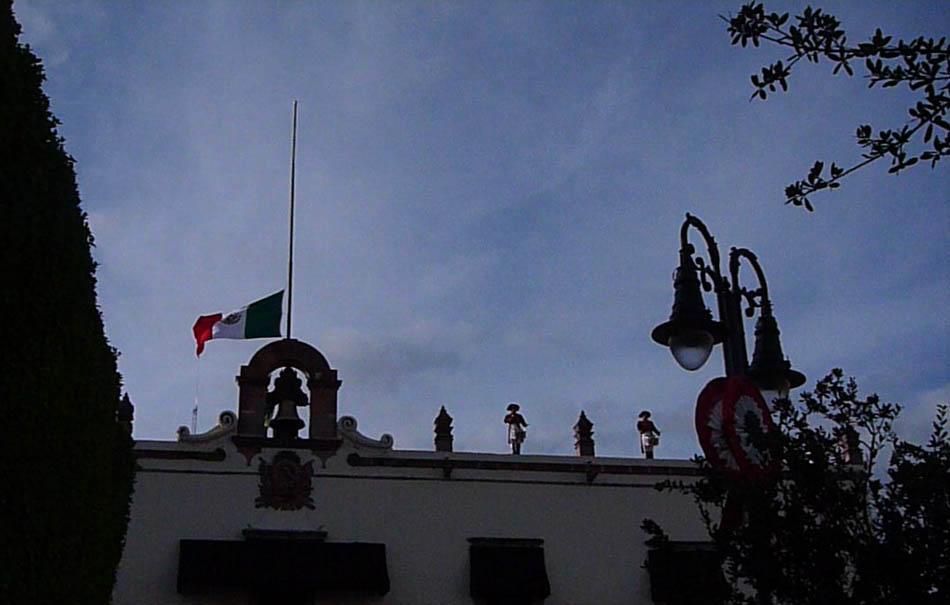 The next day we took a quick trip to San Miguel de Allende, and there, of course, was another grand cathedral that did not disappoint: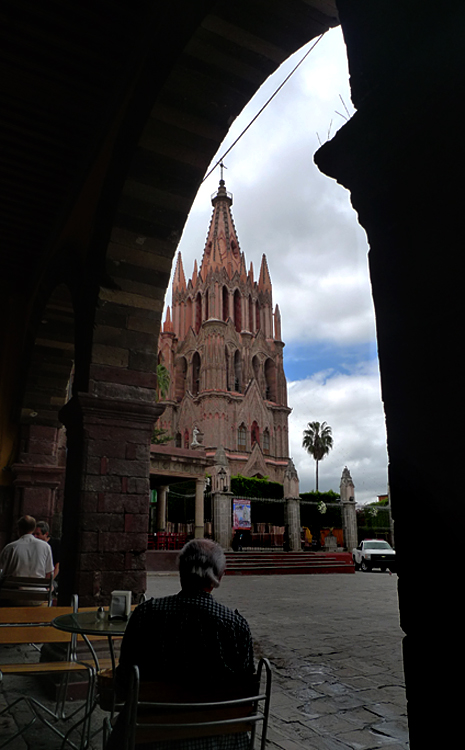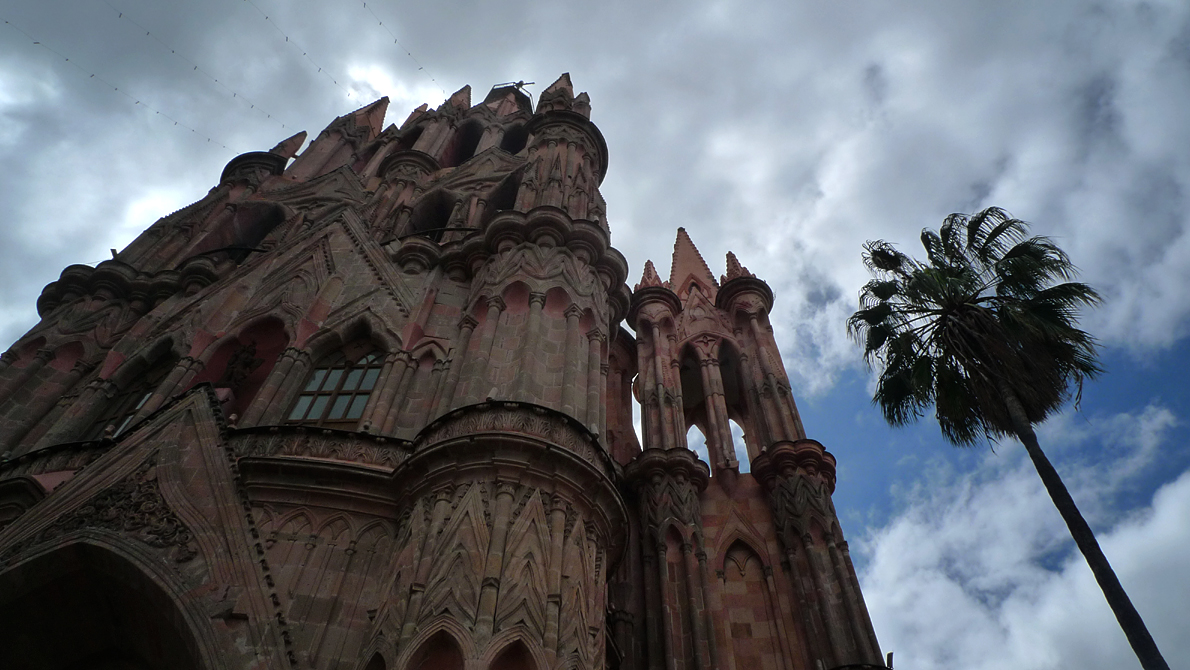 We witnessed a beautiful Marian procession into the church, as well: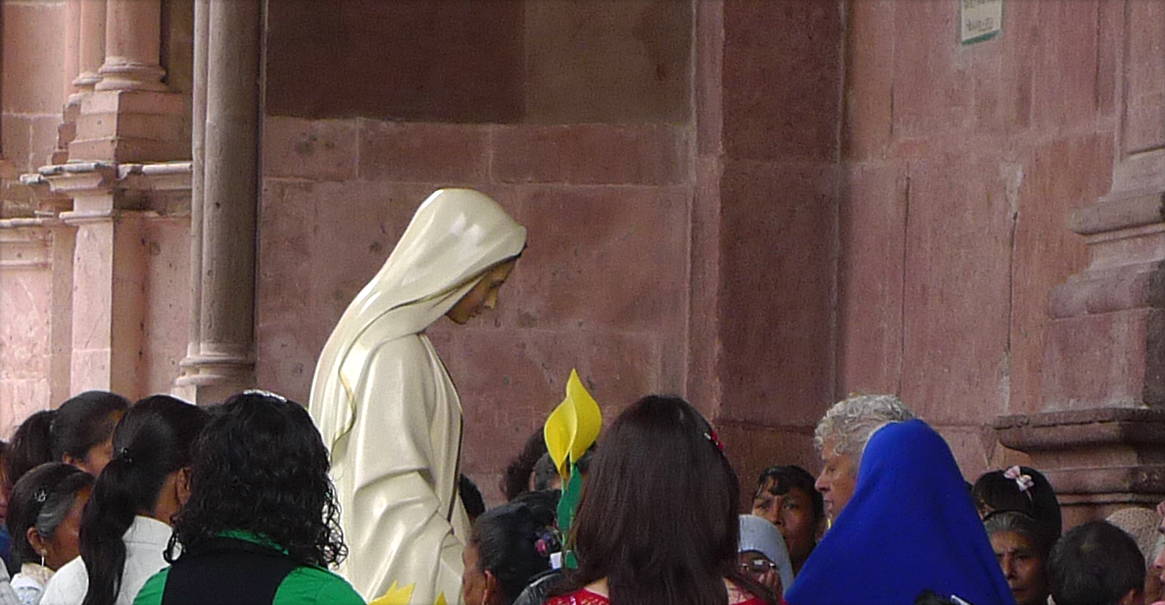 We were pleasantly surprised to find some gorgeous Mata Ortiz ollas that did not break the bank; this one was unlike any we had seen before: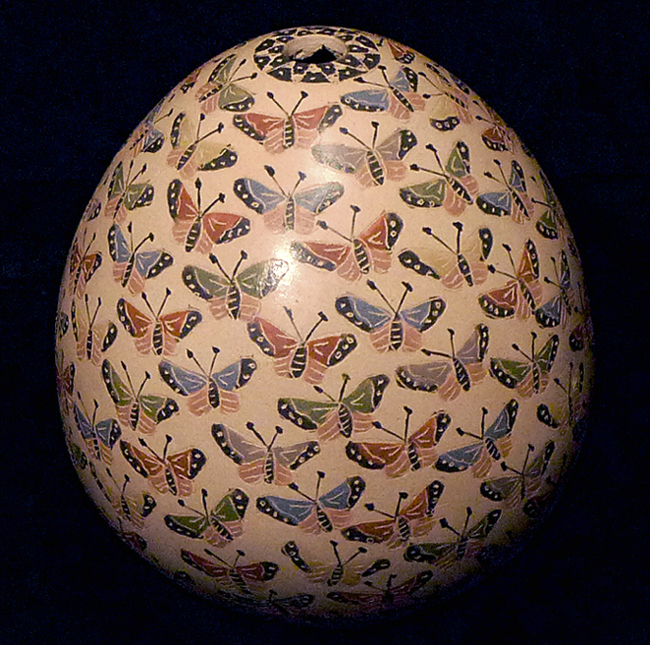 We had a quick and impromptu tour of the famous Museum of the Mask, housed within the charming Casa de la Cuesta B&B,. Heidi was thoroughly charming and accommodating, considering that we didn't have an appointment, and we thank her for her hospitality and for sharing her extensive knowledge. This collection is astounding, a must-see for any mask collector! We will be returning when we have more time to properly appreciate it. The B&B has heavenly views, within and without. Take a look at their photo gallery, and you will see what we mean! We left reluctantly, and so it was back to Queretaro, and we left the next morning for Mexico City once again.
There was much shopping still to do, and we got right to it, from Coyoacan to San Angel and many points in between. We spent time with the Huichols, and left with these glorious gourds in beads and yarn…


and an unforgettable encounter with a little Princess: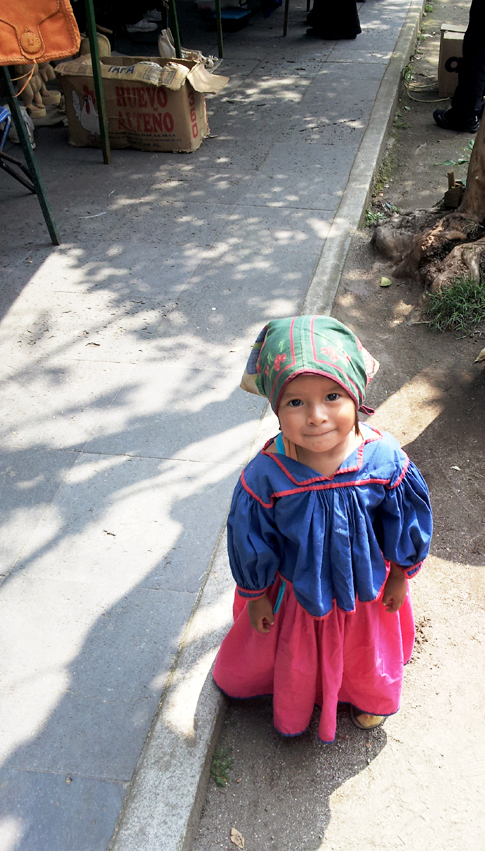 We found some great new muerto and luchador t shirts to add to our already large selection, as well as aprons: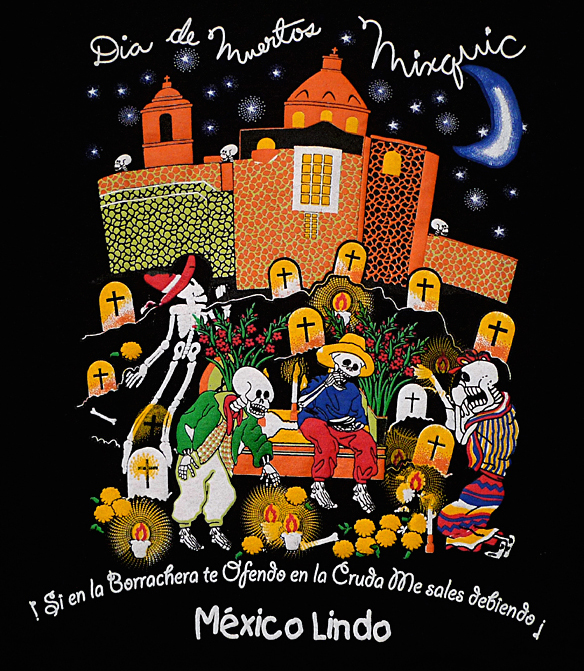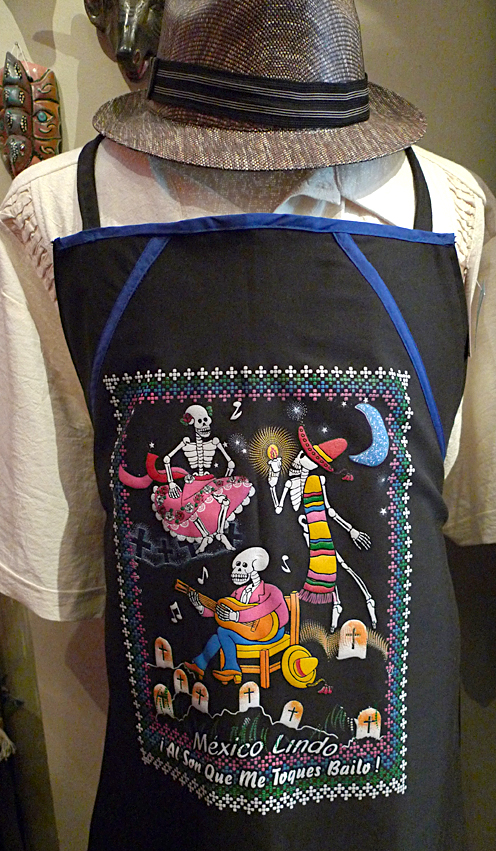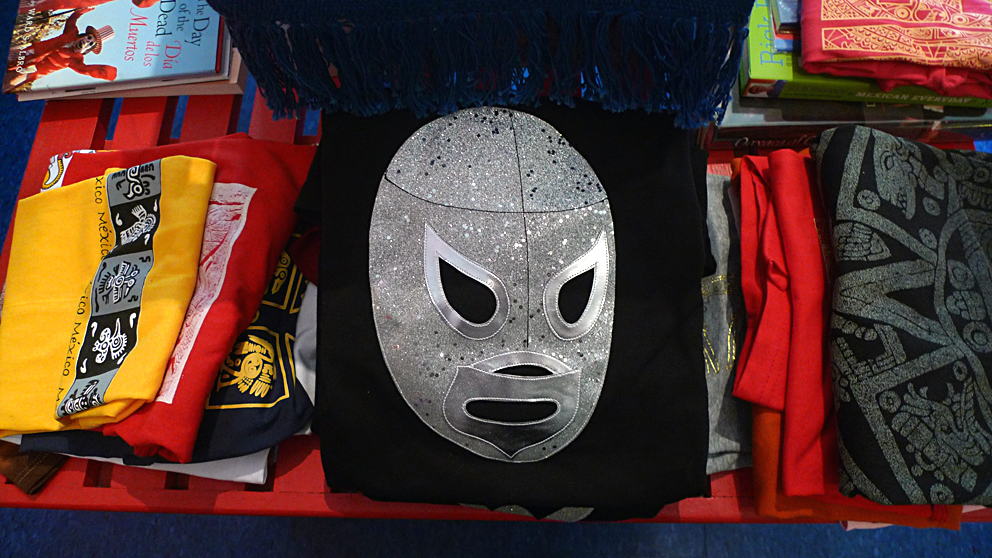 There were tequila glasses with everyones' favorite, the loteria: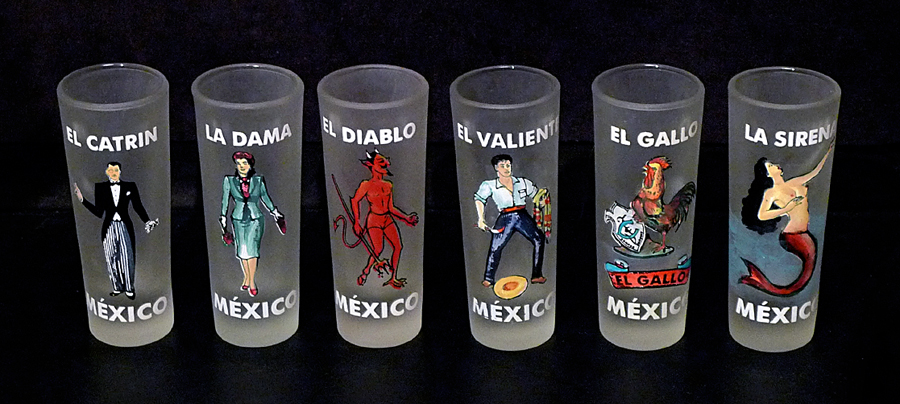 ..and purses with loteria figures and sugar skulls, as well: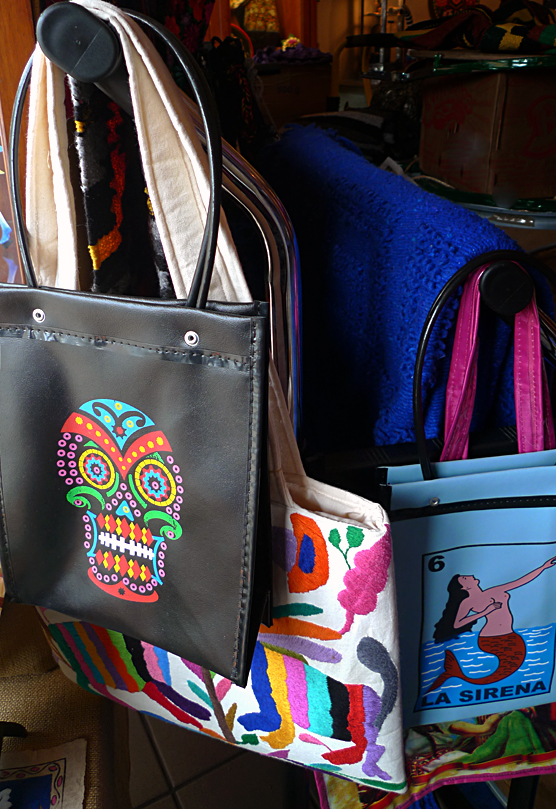 …and painted pumpkins made of copper: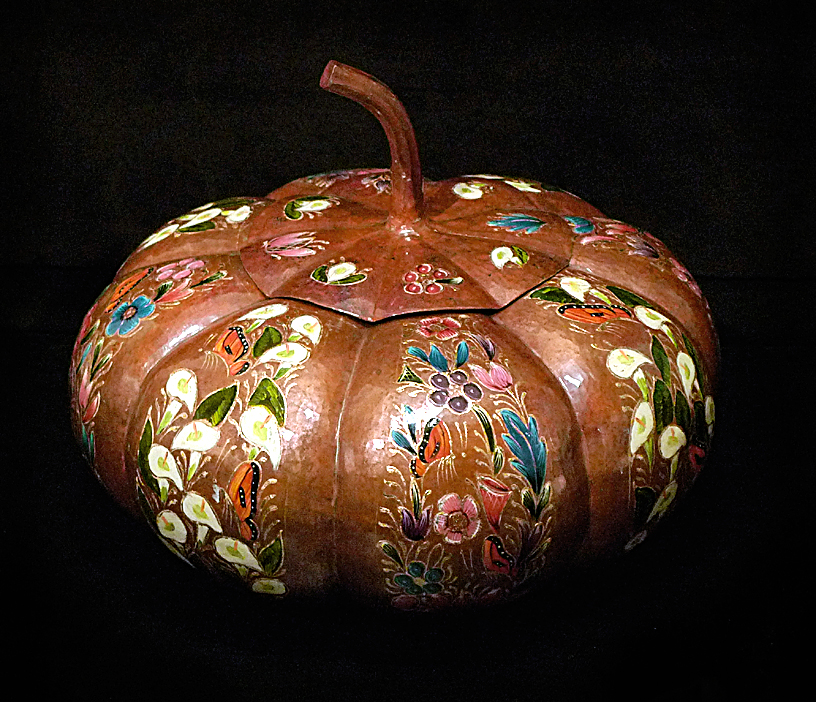 …and Precolumbian jaguars, and legendary tacos, big, scary but delicious fish,
and darling tiny turtles, and so much more!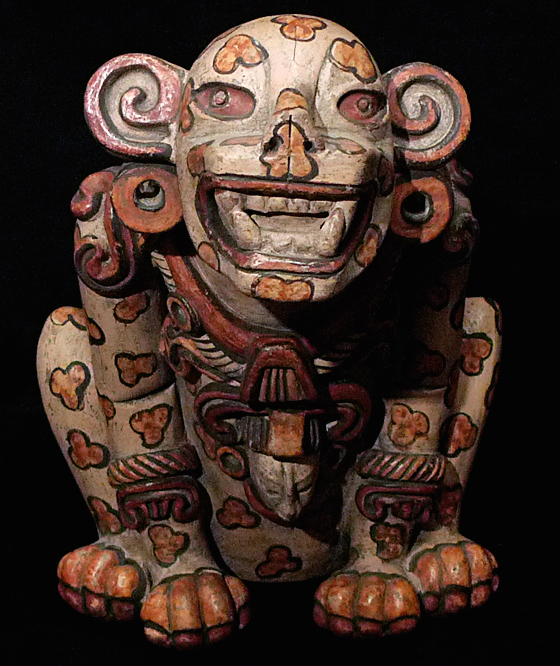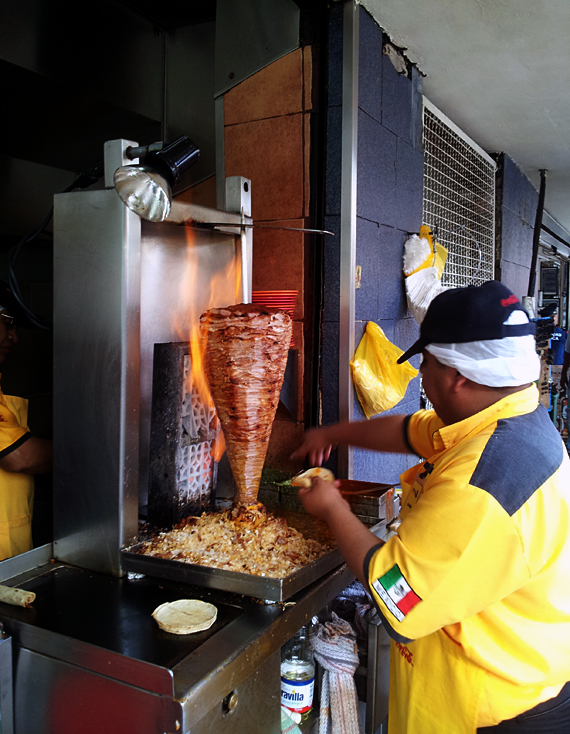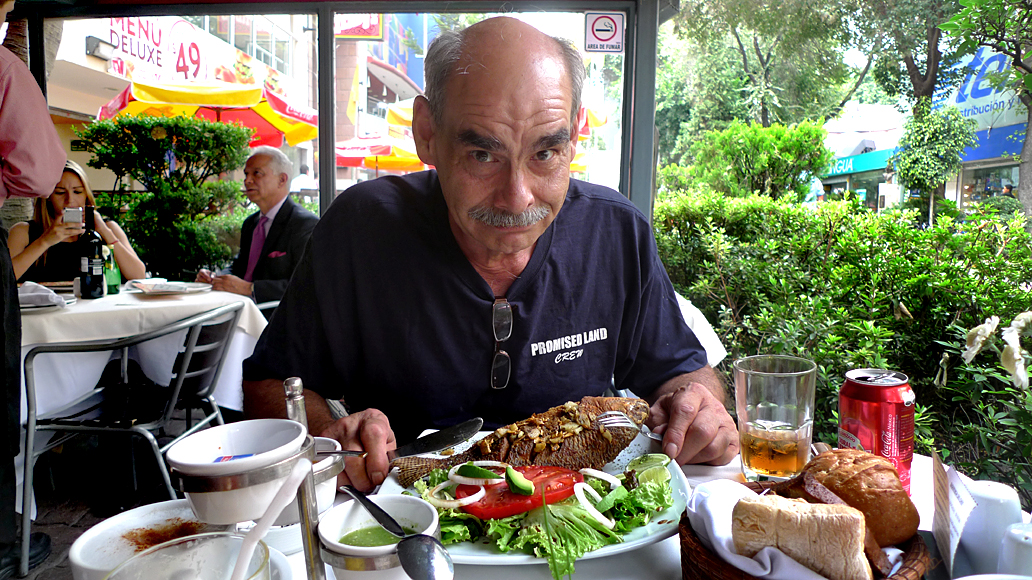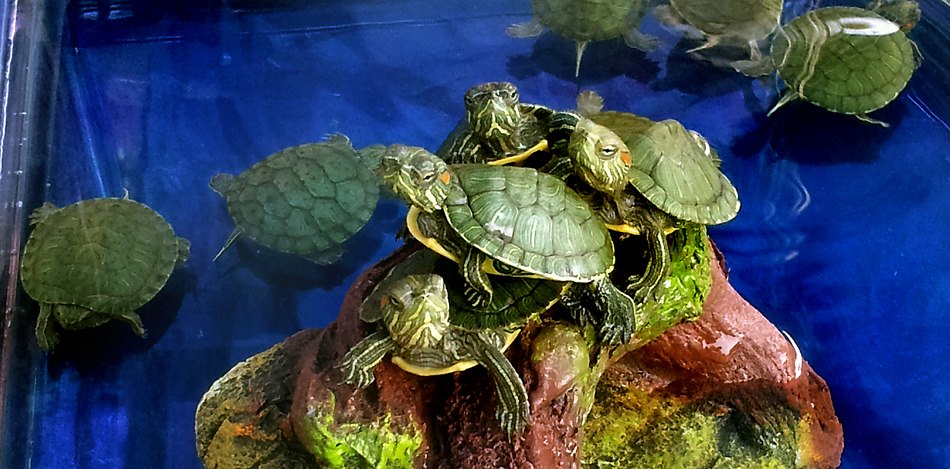 But we could go on all day….and it's time now to begin getting ready for Dia de los Muertos! So you'll have to come and see for yourselves! Until then… hasta la proxima vez :)