San Franciscans have two fascinating exhibits to enjoy this month; the first is "Searching for Queertopia", a view into the culture of the Muxes of Juchitan at Galeria de la Raza. You can also read more about it here at NPR.
"
Here at the store, we also have in stock an award winning documentary on DVD by Ethnoscope films about the Muxes, for 26.95.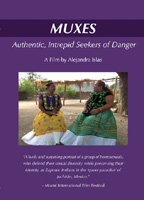 above: "Amanecienco" by Justina Fuentes Zárate, Guardian photo by Caitlin Donohue
The San Francisco Bay Guardian Onlines' Caitlin Donohue describes the impetus for The Magic Surrealists of Oaxaca", an exhibit currently on display at the SoMa Mexican consulate. The consulate is also screening "El Informe Toledo" on July 26, a documentary made by Diego Luna and Gael Garcia Bernal's production company, based on the life of the Maestro Francisco Toledo.